The elegance and charm offered by an Indian wedding oozes luxury and is treasured forever by the attendees and of course the newly wedded couple. Villapp.com has recently added Indian themed wedding parties to its cocktail of services for customers from all over the world.  According to the ancient traditions followed by the Indians, a wedding is a time for rejoicing as two families become one rather than just the union of the bride and groom. This makes it unique for every member of both the families as they make new acquaintances and are bonded for life.
Just like any wedding party, a lot of planning goes into executing a perfect Indian styled wedding party. Here are a few of the key steps that need to be kept in mind planning a party:
The most crucial point for planning any significant occasion is setting the date. This will help you find out whether the venue you have your heart set on is available or not. Villapp.com's customer executives are ready to help you find a suitable date on which our  will be available. Experts recommend booking the venue in advance to avoid the last minute rush. You do not want to get stuck with no place to hold the wedding at the last minute after all.
Many couples make the unfortunate mistake of spending beyond their means in an attempt to throw a spectacular wedding. You can avoid this naïve mistake by deciding on a budget beforehand. Indian wedding themes are very flexible and can be thrown on a shoestring budget or a limitless budget, the choice is yours!
If you prefer an outdoor Indian wedding, keep an eye on the season. Exchanging vows outside in the midst of winter might not be exactly a great idea. If you are keen on having an outdoor wedding, choose a date that falls in seasons like summer, or spring, or autumn. Having a mandap set up outside will add charm to your Indian wedding theme.
If you plan on having an Indian wedding in every sense of the word, do not forget to book the services of authentic Indian caterers. However, you can ask them to tune the spice element a bit if you are not sure whether all your guests can handle the extra chilly. Indian cuisine is treasured all over the world for its introduction of delicious dishes that are indeed drool worthy.
No wedding is complete without flowers. The distinctive fragrance they add to any venue is more than enough to ensure that there are plenty of them placed around. Villapps.com has several contacts with the local florists to create floral decorations that will complement the Indian wedding theme.
Interestingly, the wedding outfits worn by the bride and groom on the wedding day seems to be a major attraction because they got it done from eminent designers like The Fair Lady Designer from Diadem Wedding Gowns , Chennai and TarunTahiliani from Tahiliani Design studio Since India tends to celebrate colour, it is afterall befitting that the wedding outfits stand out in any crowd. You can get readymade or customized outfits according to your preferences. The recent Indian themed wedding handled by Villapp.com was a huge success with the newlyweds adorned in spectacular Indian costumes with smoothly applied makeup. The Christian bridal makeup artist from Skulpt, Chennai was very professional and finished the makeup application very quickly, making sure that there was plenty of time for photographs with the family.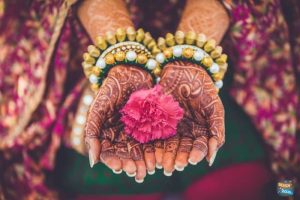 After the nuptials are over, Indian weddings are famous for many of the fun games arranged for the newly wedded couple. This includes fighting over a ring in a beautiful brass container filler with milk and rose petals. According to tradition, the finder of the ring gets to rule the household. Another exciting game is getting the groom to find his name hidden in the intrinsic mehndi art worn by his bride. More often than not, the groom takes this on as a personal challenge and eventually spends a lot of time staring at his new wife's hands. Interestingly, newer games have entered the fray, including the limbo challenge. This new version of how low can you go game has the participants trying to pass beneath a floral wrapped beam which is lowered after each round seems to have caught the attention of all.
If you are interested in getting married in an Indian themed wedding, Villapp.co is the place to contact. With all the mundane details taken care of, you get to enjoy with your friends and family as you marry your soulmate in a blast of colour and music.